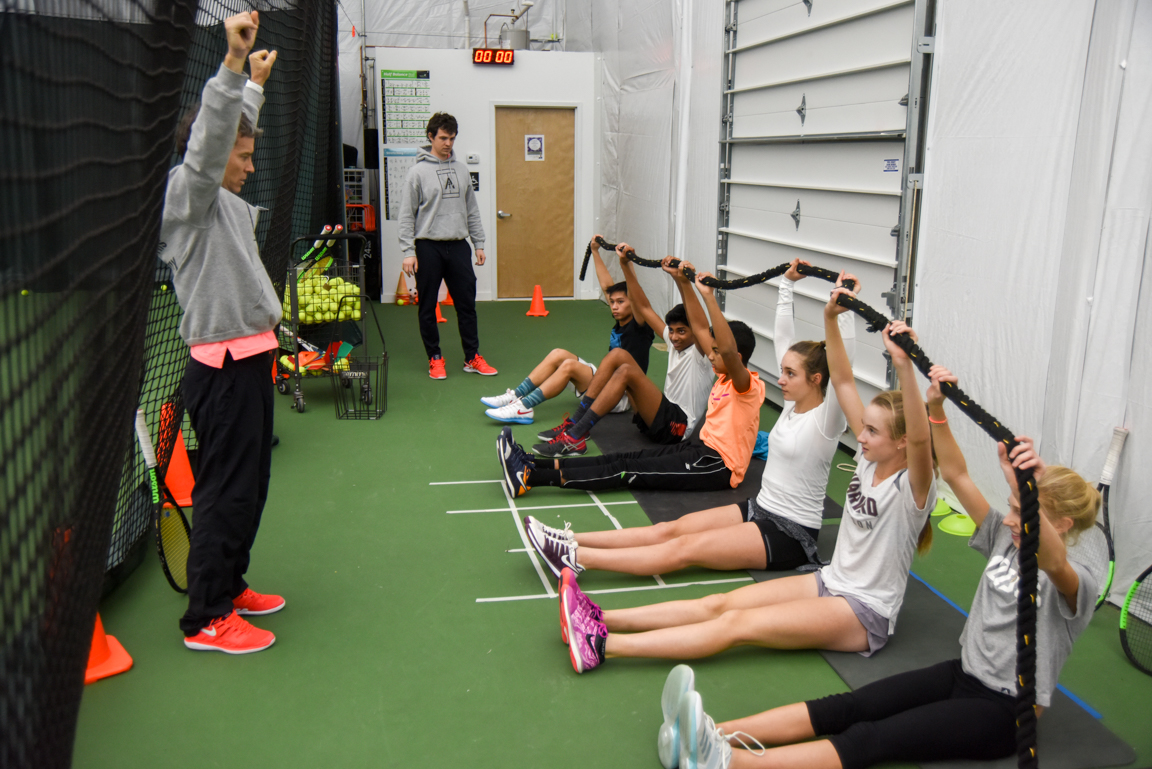 SUMMER ACADEMY
SERVICE OVERVIEW
The Summer Academy is one of the best programs we offer. Each player gets an opportunity to train twice a day for 10 weeks on the same schedule as our full timers who win national and international tournaments every month. Despite intense training atmosphere we are able to unite all of our athletes socially while maintaining a level-based training approach that allows them to excel in tennis.
The Summer Academy runs from the last Monday of June through the first Friday of September. Training runs Monday through Friday with Independence Day off (July 4).
PRICING & SCHEDULE
Flexibility insurance $50 per session allows re-scheduling of classes up to 8 hours prior to start of the class.
Convenience fee of 3.5% will be added
to all credit card transactions!
| | |
| --- | --- |
| Pay-as-you-go rate: | $130 Training / 180 Training + Match Play |
| 10 Day Match Play: | $600 |
| 20 Day Match Play: | $900 |
| 10 Day Training Package: | $1175 |
| 10 Day Training Package + Match Play: | $1650 |
| 20 Day Training Package: | $2175 |
| 20 Day Training Package + Match Play: | $2725 |
| Unlimited Match Play: | $1200 |
| Unlimited Training Package: | $4275 |
| Unlimited Training Package + Match Play: | $4725 |
LEVEL-BASED SCHEDULE:
| | |
| --- | --- |
| National+ (6.5 UTR+ or by invitation only) | 8 – 10AM – Warm up followed by tennis drills |
| Monday – Friday 8:00AM – 2:00PM | 10 – 11AM – Fitness |
| | 11AM – NOON – Lunch and social activities |
| | NOON – 2PM – Match Play |
| | |
| --- | --- |
| High School program | 11AM – NOON – Fitness |
| Monday – Friday 11:00AM – 5:00PM | NOON – 2PM – Tennis drills and live ball |
| | 2 – 3PM – Lunch and social activities |
| | 3 – 5PM – Match Play |
| | |
| --- | --- |
| Sectional (1.5 – 5.5 UTR) | 9:00 – 10:00AM – Fitness |
| Monday – Friday 9:00AM – 4:00PM | 10:00AM – NOON – Tennis drills and live ball |
| | NOON – 1:45PM – Lunch |
| | 1:45 – 4PM – Match play |
| | |
| --- | --- |
| Rising Stars+ (under 1.5 UTR) | 9:30 – 10:30AM – Fitness |
| Monday – Friday 9:30AM – 4:00PM | 10:30AM – 12:30PM – Tennis drills and live ball |
| | 12:30 – 2PM – Lunch |
| | 2 – 4PM – Match play |
TO REGISTER FOR OUR SUMMER ACADEMY, USE THE FORM BELOW